About Travis
Hello my name is Travis Conti and I am a Licensed Realtor with Mid-Michigan's largest Real-Estate company Coldwell Banker Hubbell BriarWood.
More importantly I am a follower of the Lord Jesus Christ
and have dedicated my personal and professional lives to being a servant and to practice the
Golden Rule
. I have started this website because I want to provide a service to both believers and non-believers based on keeping Jesus 1st, Family 2nd, and Professions 3rd. I want my prospective clients to know that the word Christian is not just a label I wear but a promise I make each day to be the best man I can be, honoring God in all I do. I am far from perfect. I am still a sinner in need of the saving grace of Christ Jesus and His blood that was shed for my sins.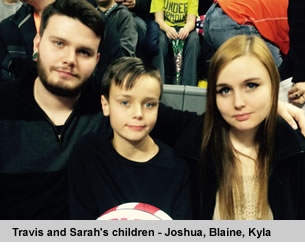 I am the Father of 3 incredible children, Blaine (Our Guitar Guru) is my oldest he is 18, Kyla is my only daughter (Our Angel-Alias Public Defender) she is 15, and Joshua (Our Resident Comedian) my youngest who is 13. I have been married to my high school sweetheart Sarah since 1996 and have resided in the Greater Lansing Area since the early 80's. I serve on the Board of Administration, Pastor's Cabinet, and as a Delegate at Central Free Methodist Church in Lansing and teach an Adult Sunday school class almost every Sunday. I have a deep passion to help sick and suffering alcoholics' and addicts recover from their addictions, and come to know the love of Christ in their lives.
I do an almost daily ministry on the internet surrounding a God inspired prayer around a Bible verse that I am led to explore.
This ministry has reached around the world as the result of help of my brother's and sister's in Christ forwarding the messages on to their friends and families!
Please click on the DEVOTIONAL Tab to view this Daily Ministry and by all means e-mail me at Travis@TravisConti.com to be added to my list of recipients.
All glory to God for this fact! I can do nothing good or pleasing without the Lord holding my hand and guiding my steps.
I have been in Sales and Sales Management for over 24 years and have been a Licensed Realtor since January 2004. I began my Real-Estate career with a very reputable builder TMN Builder's & Realtor's. As the new construction business slowed I realized that over 2/3 of my business was existing home sales and not new construction. In May of 2006 an opportunity to join the premier Real-Estate company in the area, BriarWood Realty, became available and I accepted. I left TMN Builder's on very good terms as I had learned much from them and was very grateful to have the new construction experience from start to finish. In early 2008 BriarWood Realty and Coldwell Banker Hubbell merged and now I am part of the #1 Coldwell Banker office in the state of Michigan and once again very grateful to be part of a dynamic team of individuals with great integrity and ethics. I have been the recipient of the BriarWood Realty Million Dollar Month Award, the Realtor.com Award of Excellence of On-Line Marketing, and the Coldwell Banker 2009 & 2010 International Diamond Society, 2011 & 2012 President's Circle for production numbers. For 2013, 2014, and recently 2015 I was awarded the International President's Elite Designation for the top 3% in North America for Coldwell Banker. I was just recently awarded with the Delta-Waverly Communitie's People's Choice Realtor. These and every accomplishment are not by my hands but by the
One who created me in His image, my Heavenly Father.
In closing if you or someone you know is more comfortable working with a
Christian Realtor
who understands God is in charge.
A Realtor who puts God 1st
, Family 2nd, and Real-Estate 3rd. A man who knows that everything I do is to be done for the Lord and tries to give God all the glory for any successes. A Realtor who considers Real-Estate a full-time profession and strives to
treat You like my own family would want to be treated
. If this sounds like what you may be looking for than
please contact me anytime and interview me yourself
. 517-930-1721 or visit www.TravisConti.com and send me a message. It will be a blessing helping you on your Real-Estate journey.
Thank you very much, and may God's blessing's pour out abundance on you and those you love!